How Much Are You Worth? 5 Salary Calculators for Freelancers and Developers
Whether you're a freelancer or a developer, these salary calculators can help you pinpoint exactly how much your time is worth. About the author: Mihir Patkar (MakeUseOf) is a freelance writer on technology and life hacks, who firmly believes chocolate is the answer to any question. You can usually find him saying other such silly things on Twitter. MakeUseOf is a technology website, focused on bridging the connection between users, computers, devices and the Internet through education. Feature image courtesy of  Flynt via Bigstockphoto.
---
Finding your actual worth isn't that easy. You always wonder if you could be paid more than you are, if your colleagues and peers have a better salary, or if the industry has left you behind. If you're a developer, a part of a tech startup, or a freelancer, you can find answers with these few tools.
Jobs in the IT and technology industry have a few peculiar factors in the current employment market. You are more likely to get offers of hourly contract work, short-term freelance projects, or offers of equity to join a startup. These five websites and calculators can help you negotiate a better salary.
Dev Salary (Web): Salary Comparison for Startups and Tech Companies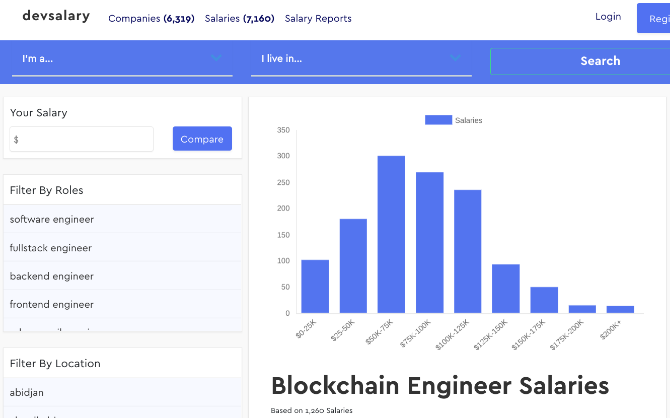 When you're a developer, you are bound to think about what you would earn if you worked for one of the technology giants or a hot startup. Dev Salary has collected data from over 6,000 startups to give you an idea of your potential earnings.
This list includes some of the biggest names, like Google, Facebook, and Amazon. It also includes some smaller startups that only you might have heard about, so don't be shy in searching their database.
The search parameters also let you get a little more specific about the type of role you do (fullstack engineer, mobile developer, and so on), and the location you work from. Naturally, you'll get a bit more if your skills include computer programming jobs in demand right now.
A free account only shows you the top three results for any sort of search, and you can pay to view the full list. But as with any type of job, salary comparisons are only indicators, so the pro account won't be worth it for most job seekers.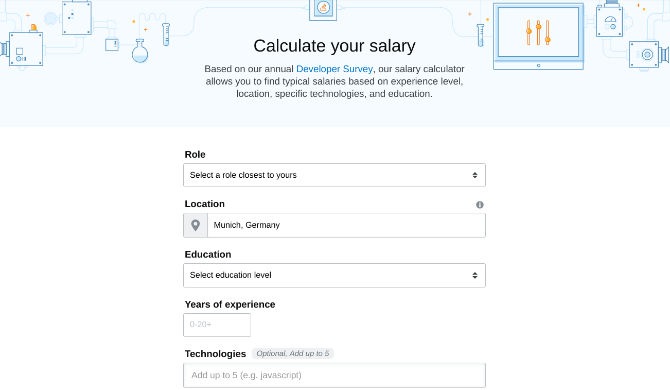 If you're a programmer or developer, chances are you have ended up on Stack Overflow at some point. It's one of the best Stack Exchange communities, giving you answers about anything related to programming. Stack Overflow has had a jobs listing for some time, and you can use that data to find a bit about what you might be worth.
It's a really simple calculator, but when you need a ballpark figure to start negotiations, this should be your first stop. You select a role that's closest to what you do at your job, add your education and experience, and the location you're in. If you have additional programming skills, throw those in too.
Stack Overflow's calculator will show you what people in different percentile are earning. It's up to you to judge which category of those you fall in, but it shouldn't be too hard if you're realistic with yourself.
Additionally, Stack Overflow has one of the internet's best job-search listings for developers and programmers, so you'll immediately see other firms to apply to in case you think you're underpaid.
Hourly Rate Calculator (Web): Fill the Blanks, Calculator Does the Rest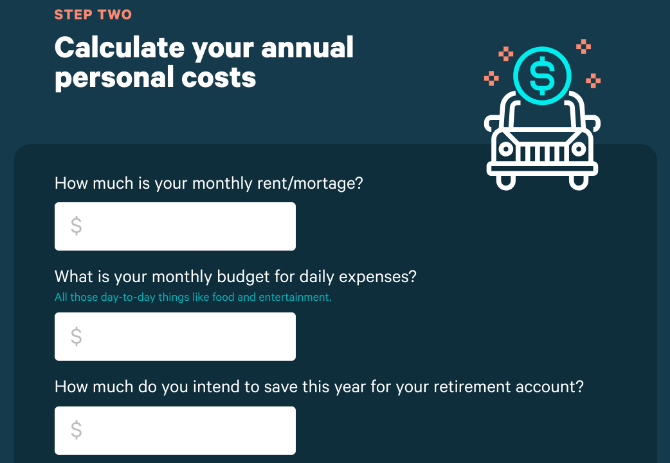 For a lot of freelance roles, you will be asked for an hourly rate. This does not mean you divide your targetted income by the number of hours you wish to work every day. You might lose out on money with that, so use Pastel's calculator to ensure you're paid fairly.
The calculator asks you a series of questions, that determine four major expenses: your annual business costs, your annual personal costs, your billable hours, and profits and taxes. It's a nice way of splitting up your finances and arriving at a logical number. It's what an online financial advisor would tell you to do.
Once you enter all the metrics, you'll find out what your hourly rate is. Now you can stick by this, and use the best time-tracking app with it to ensure you are paid exactly what you are worth.
Salary or Equity (Web): Layman's Guide to What Equity Is Worth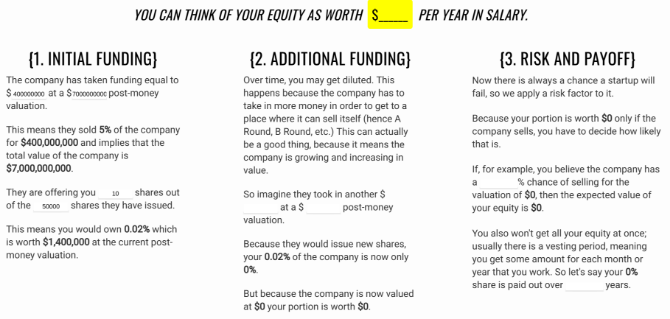 Technology startups usually want to hire employees who want to grow with the company. Startups will often offer a piece of "equity" as part of your overall salary package, which basically means a share in the company. How much is that equity really worth?
Salary or Equity simplifies this complicated topic for the layman. A quick Google search about your company will give you the information this calculator needs. Companies have to disclose their funding details, so you will easily find how much money they raised, at what valuation, and the shares they issued. Then it's just a matter of putting in what they offered you.
The calculator then tells you how much part of the company you would own, and what it is worth at the current valuation. The next step asks you about additional funding, guessing the potential future about how much extra money the company could take, and what your shares would mean then. The third and final step is about risk and payoff, helping you calculate how much the shares would be worth if the company was sold.
Going through the step-by-step process of Salary or Equity is a much more realistic way to figure out what the company is offering you, and whether you should take the equity (for long-term gains) or ask for a lesser amount in salary (for short-term gains).
Buffer, one of the best ways to schedule posts on social media, is an admirable startup with some new ways of thinking. The company has an entirely transparent salary system, publishing what every employee makes. And they also have a calculator for you to see what you could make working at Buffer.
Buffer's Transparent Salary Calculator has different job roles for you to calculate with, like leadership, administration, engineering, marketing, product, and more. You then add which location you stay in (or the closest one), which immediately calculates a cost-of-living multiplier for cities around the world. Finally, your experience is another multiplier, to ensure you are rewarded for your years of service.
Put all the things together and you'll find out what you earn at Buffer, with a clear explanation of why. It's also a nice base to use as a comparison in a salary negotiation with someone else.
Find Your Day Rate (And Other Useful Tools)
Knowing your hour rate is excellent for those who work on small projects that are billable by the hour. But for other types of freelance jobs, it's better to calculate a daily rate and cover yourself for other expenses and unexpected situations.
If you are an independent worker, there are freelancer unions and free contracts that can help provide legal protection and save you from employees who don't pay on time (or at all). Bookmark or download these essential apps and sites for every freelance professional, you never know when you might need one.
https://www.phoenixonline.io/wp-content/uploads/salary-calculators.jpg
675
1080
Valeri K
https://www.phoenixonline.io/wp-content/uploads/2018/05/phoenix-logo-landscape-300x138.png
Valeri K
2018-09-29 14:43:39
2018-10-01 21:48:09
How Much Are You Worth? 5 Salary Calculators for Freelancers and Developers