How to Spot and Buy Expired Domains at the Cheapest Price
Learn how to find & buy expired domains at cheapest price. About the author: Ryan Dube (makeuseof.com) has a BSc degree in Electrical Engineering. He's worked 13 years in automation engineering, 5 years in IT, and now is an Apps Engineer. A former Managing Editor of MakeUseOf, he's spoken at national conferences on Data Visualization and has been featured on national TV and radio. MakeUseOf is a technology website, focused on bridging the connection between users, computers, devices and the Internet through education. Feature image courtesy of www.BillionPhotos.com via Bigstockphoto.
---
If you've ever spent hours trying to come up with a good domain name for your new site, you know how frustrating it can be. Don't worry, there's a better solution that you can use to land that premium domain name of your dreams.
Every day, hundreds of domain names get dropped from domain registrar lists. Many of those go quietly unclaimed for years.
Instead of trying to brainstorm a new domain name for your site, why not browse thousands of popular domains that have already expired?
The Domain Expiration Process
When someone registers a domain name, they don't actually "own" that domain. They lease that domain name for a certain amount of time.
This usually ranges anywhere from one to five years.
For any variety of reasons, many people never get around to renewing their domain. When that happens, the domain expiration process follows specific steps.
The registrar informs the owner that their domain name has expired
The domain name enters a grace period (usually from 2 to 40 days)
If the domain is not renewed, it could be auctioned off if there are any backorders (see below)
If it's not renewed or purchased at an auction, the domain is returned to the registry
The registry then releases the domain for public registration
There are different steps in this process where you can get the domain. The earlier in the process, the more expensive that domain will be.
Make an Offer
If there's a specific domain that you really want, you may be able to purchase it before it goes to auction.
First, search any domain registration tool, like DomainTools.com, to see if your desired domain is available. For example, let's say you want technews.com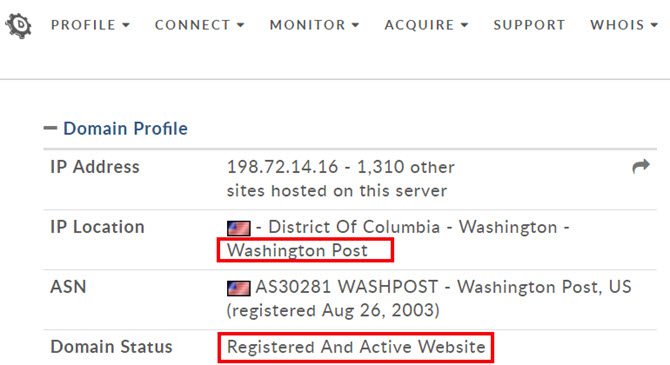 The Whois details show that the site is registered to The Washington Post
Sure enough, if you type technews.com into a browser URL, it redirects to the Technology section of The Washington Post website.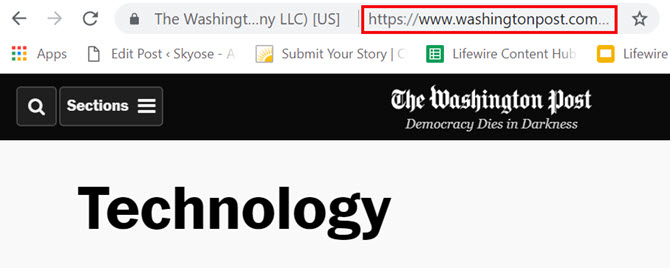 It appears The Washington Post purchased this domain to redirect it to their own site. The chance of buying this domain from The Washington Post is very low.
Trying techgeeks.com as an alternative reveals that whoever purchased techgeeks.com has listed it for sale.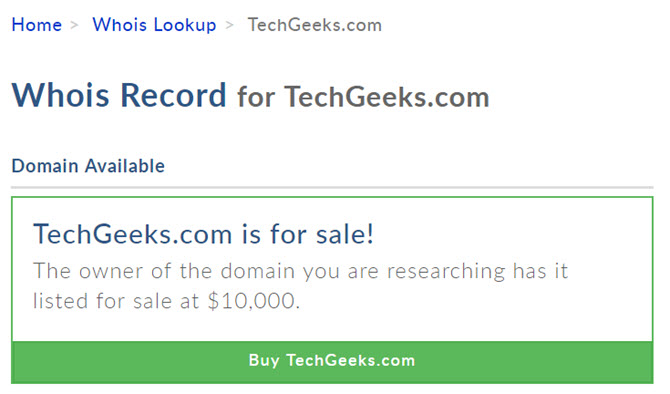 You can buy the domain, but you're going to have to cough up a lot of money.
You'll see this a lot. There are domain investors who've purchased up a lot of premium domains and leave the domain unused but list them for sale for significant profits.
It isn't always this expensive. You'll find domains listed for anything from a few hundred dollars to several thousand.
Buying a Domain at an Auction
A less expensive option is to wait for premium domains to enter the redemption (grace) period once they expire. During the grace period, you can "backorder" the domain.
There are a number of websites that list expired domains you can backorder. Typically there is more than one person trying to backorder expired domains. In those cases, it's likely to enter into an auction.
To find recently expired domains, you can use one of the popular services below.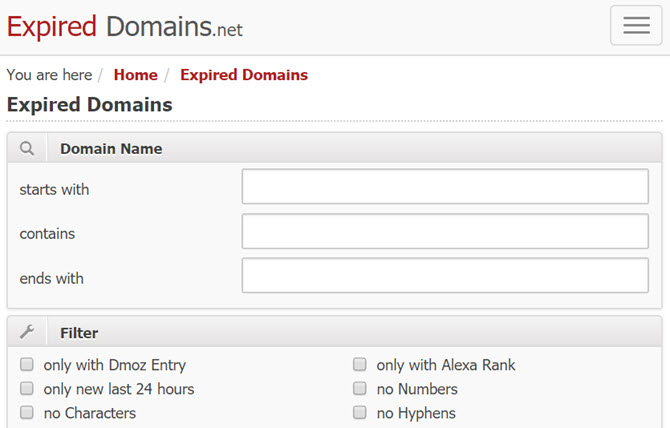 Expired domains lets you search through the list of available expired domains (almost 200,000 as of this writing). You can use the filter to narrow down domains with existing backlinks, a high Alexa or Dmoz rank, shorter names, and more.
When you find one you want, click on the menu icon on the right and choose from one of the backorder resources to submit your backorder.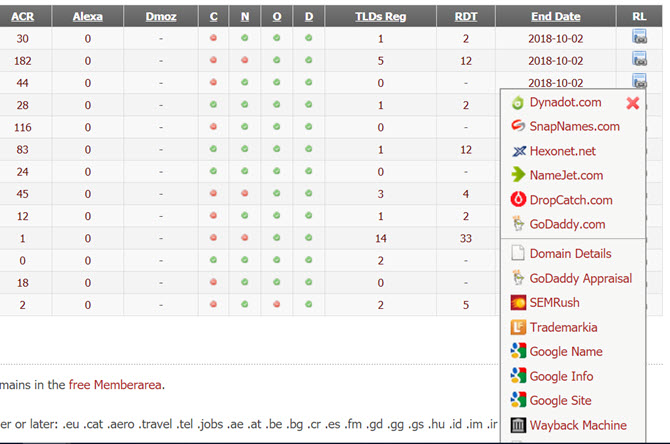 These backorder sites are also good places to go to search for expired domain names.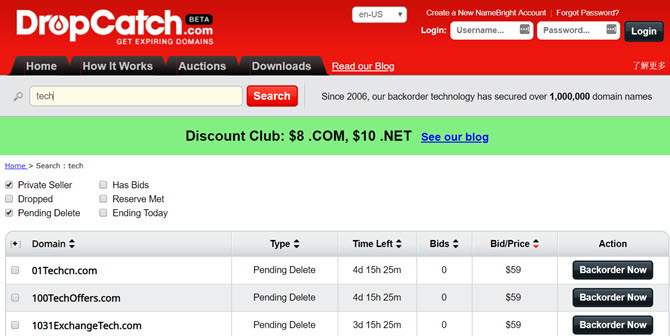 DropCatch has a simple text-based search that lets you see expired domain names available for backorder.
You can see how many bids already exist, and how much time is left before the domain goes up for auction.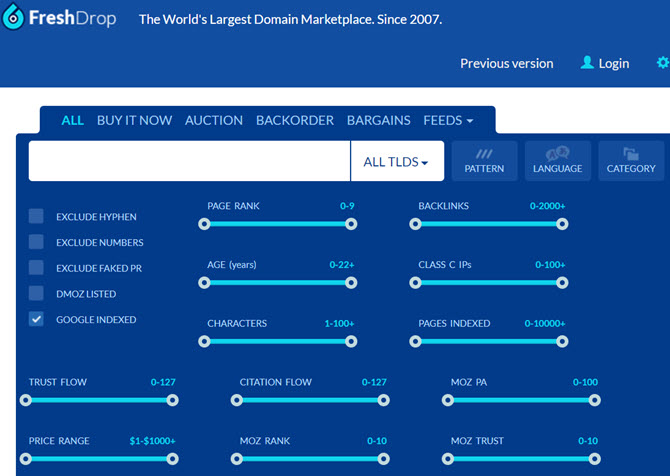 FreshDrop lets you search for expired domains, or those that are already for sale at auction.
The database listing here seems a bit smaller than the other sites, but most of the domains are short and clean.
You can filter the search by things like whether the domain is indexed by Google, listed by Dmoz, the number of existing backlinks, and more.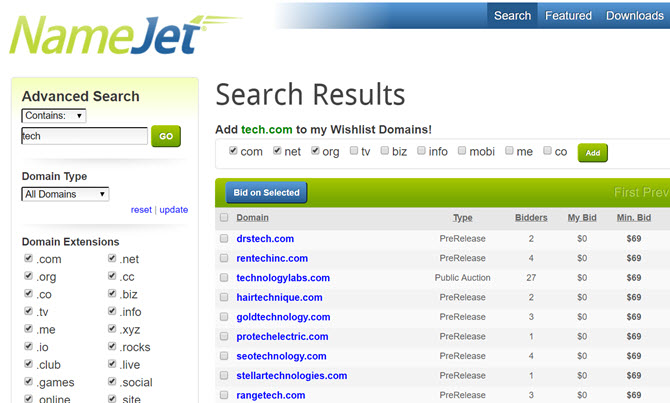 NameJet is the eBay of domain names. The filter is more limited than other sites, but you'll see only premium domain names listed. Each listing shows how many bidders there are (unlike other sites that won't show you this). You can place your bid higher than the "high bid", and hope for the best.
If you organize the list by "Type", you'll be able to bid on sites that are already in the auction phase. Or you can backorder by bidding on a "PreRelease" domain and waiting until the auction starts (unless you're the only bidder).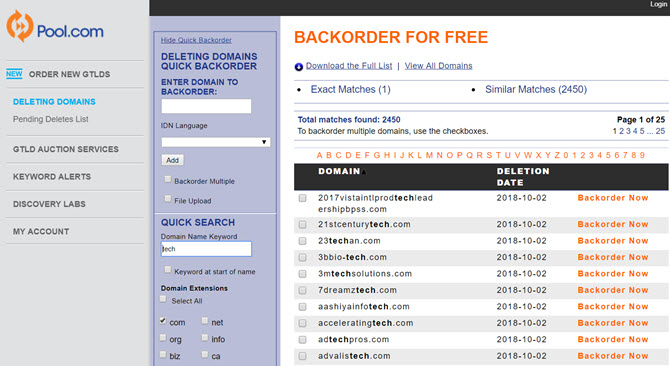 Pool is one of the most popular expired domain backorder services. People who've used it reported having the best success rates at obtaining the expired domains once they're released.
However, Pool uses what some have called a "two-phase" auction system. This means that once you win your original backorder, Pool will then move you into the auction phase where you compete with other bidders for the domain. Pool doesn't reveal how many bidders there are or what they're bidding, so you have to offer the highest price you're willing to if you want to get that dream domain.
You also can't place backorders or search for specific domains without signing up for a free account. You'll need to provide credit card information to do so.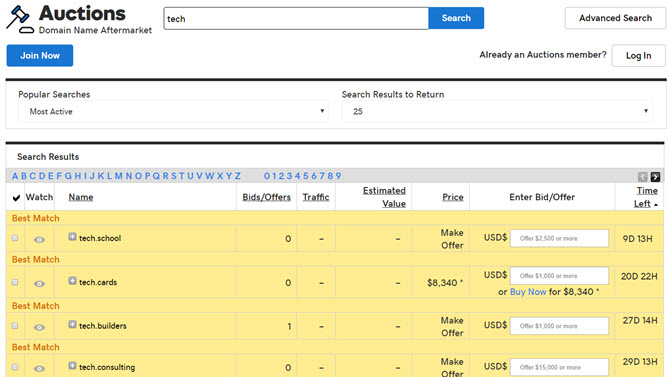 No list of expired domain sites would be complete without including GoDaddy Domain Auctions.
The advanced search feature lets you limit by domain extension, age, number of characters, and type. Types include expiring, auction, buy now, and more.
The GoDaddy auction listing is one of the most extensive, with a lot of really good domain names ready to buy. In many cases, you may not even have to compete with any other bidders.
Buying a Dropped Domain
The easiest option is to look for domains that are past the auction stage and are just sitting out there waiting for you to buy them.
The selection may be more limited, but you can still find some great domains that people have passed up.
The best tool for this is the ExpiredDomains.net mentioned above. From the main page, just click on the Dropped Domains link to see a full list of all domains that have been dropped.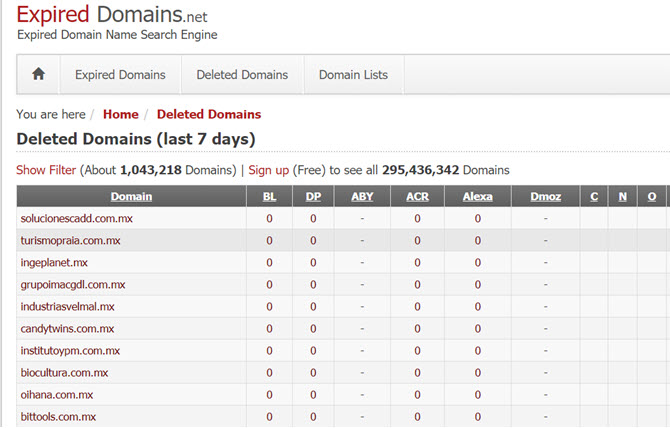 If any of these show a status of "Available" (filter by Deleted Domains), these are publicly available for purchase from any registrar.
Make sure to sign up for a free account so that you can see the full database listing of available, recently expired domains.
Buying an Expired Domain
Many people think that you need a lot of money for a great domain name. That's not the case at all.
By using the resources above and a small investment, you'll be able to find the perfect domain name.
If you really don't want to spend anything at all for your domain, that's okay too. There are lots of ways you can get a free domain name for your website. In the end, a domain name is really only a small part of your site. Really, the success of a site depends largely upon what you decide to do with it.
https://www.phoenixonline.io/wp-content/uploads/cheap-expired-domains.jpg
675
1080
Valeri K
https://www.phoenixonline.io/wp-content/uploads/2018/05/phoenix-logo-landscape-300x138.png
Valeri K
2018-10-17 22:19:08
2018-10-17 23:12:53
How to Spot and Buy Expired Domains at the Cheapest Price