The 5 Best Email Signature Generators to Make Your Mails Pop
An email signature says a lot. Here's how you can make gorgeous email signatures with the help of these apps and sites. About the author: Mihir Patkar (MakeUseOf) is a freelance writer on technology and productivity when he isn't binge watching re-runs. You can usually find him saying other such silly things on Twitter. MakeUseOf is a technology website, focused on bridging the connection between users, computers, devices and the Internet through education. Feature image courtesy of  mStudioVector via Bigstockphoto.
---
You must have seen some impressive email signatures by now, complete with the sender's picture, company details, contact details, and little icons for social media. Want to make your own? It's easier than you think, especially if you use these great email signature apps.
An email signature is important. It makes your messages seem more professional and often saves you the trouble of back-and-forth emails. If someone you've emailed needs your office address or phone number, they can find it by checking past messages.
There are a few basic things you need to create the perfect email signature. It helps to know HTML, or how to format in rich text. But you don't need any of that if you use the right app. You can get minute customizations, plenty of templates, and even email tracking through these free websites and extensions to make your own email signature.
Signature Maker (Web): Simplest Way to Create Email Signatures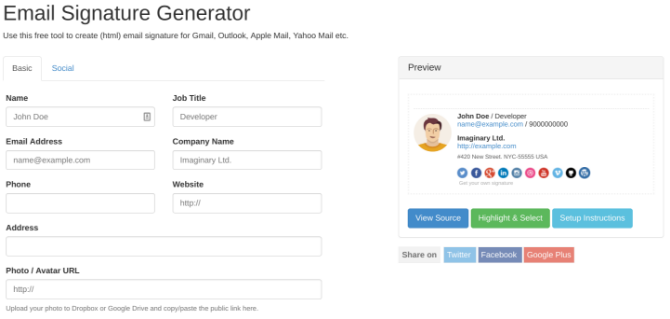 Signature Maker is the easiest way to create an email signature that you can use in any email client of your choice. It looks quite basic, but if this is the first time you're making a signature, it's good for beginners.
The Basic tab has a few empty boxes to fill the details you need: name, job title, company name, company website, postal address, email address, phone number, and a link to your photo or avatar.
Switch to the Social tab to add links to your social profiles. You'll need to put the full link, not just your handle. For example, I would write "https://twitter.com/mihirpatkar" (without the quotes) not just @mihirpatkar. To make it easier, go to your social profile, copy the link, and paste it in the appropriate field.
As you update Signature Maker, it will update details in the preview. Once you're done, click "Highlight and Select" and paste it in your email app's signature settings.
Si.gnatu.re (Web): Add a Footnote, and Customize Colors, Fonts, and Layout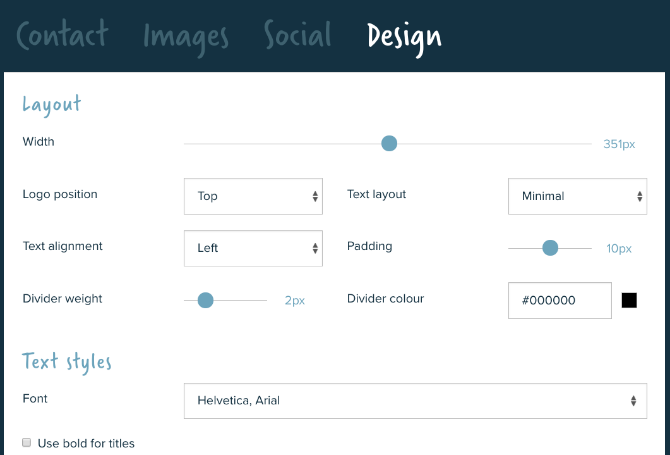 Signature Maker is the basic level of making an email signature. The next step is to level up with Si.gnatu.re, which lets you customize several aspects of how the signature would look. And it lets you add a footnote.
You start with your contact details, most of which also have the option of adding an icon or a text label. Si.gnatu.re also adds a Google Maps link to your address. The social tab only needs your handle this time, not your full web link. You can also add a logo, a profile photo, and a banner image too.
Footnotes are generally functional to add disclaimers to your emails. But they are also a cool way to add more to your signature than contact details. You can throw in witty jokes, motivational quotes, or a simple message that changes from time to time.
Finally, you can customize how the signature looks. Si.gnatu.re gives you minute control over the width, placement of items, fonts, colors, and icons, so that you can get everything to match your company's colors too.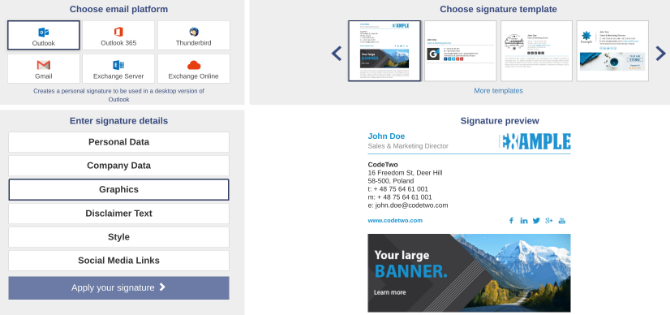 If you don't have much design sense, you shouldn't really be changing the layout you get in these apps. The better way is to use a template. Mail Signatures hosts a range of signature templates, so you can pick the one that's best for your needs.
You can filter the signatures by columns (one, two, or three) as well as the content you need (banners, disclaimers, graphics, logos, photos, and social icons). Once you find something you like, click "Edit Signature" to start turning it into your own pro email signature.
Mail Signatures also lets you choose your favorite email platform in advance, so you know that it can customize each bit of the signature accordingly. Choices include Outlook, Outlook 365, Exchange Server, Exchange Online, Gmail, and Thunderbird.
It's easy, it's free, and it's perhaps the best way for most people to create a professional signature without any HTML or design chops.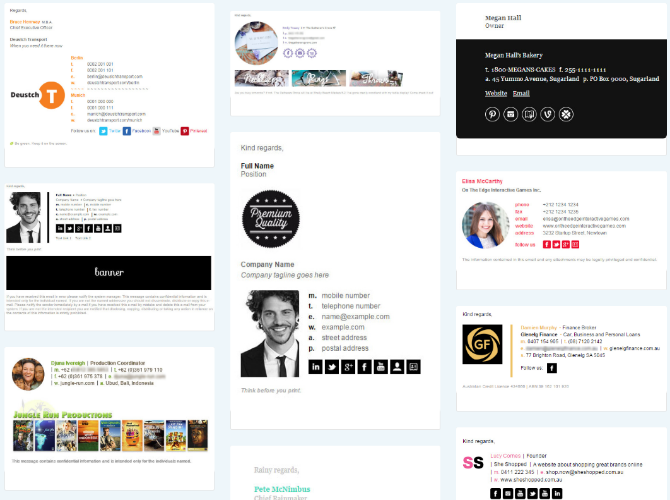 We have apps that let you customize each part of your signature, and we have apps that come with templates. But if you want to stand out, you should create your own signature.
For a bit of inspiration as to what you can do with email signatures, turn to this page from Email Signature Rescue. It collects over 200 different examples of different types of beautiful signatures. Some have buttons with direct links to download an app, while others feature minimalistic design. There is something different for each type of job, much like how you can have business cards for every type of profession.
As for the app itself, Email Signature Rescue is excellent, but it's better for companies and businesses with a large number of employees. This paid app has a few tricks to apply a signature to every employee's email and keep it updated when the firm changes its address, web page, social links, or banners.
Mailcastr (Web, Chrome, Android): Signatures With Email Tracking

Mailcastr is more than a simple signature maker. Let's say you've sent an important email. But how do you know when the person has actually opened and read it? Email tracking apps can tell you this information. And Mailcastr does that as part of the signature itself.
Making the signature is actually simple and easy. Once you're done, get the Chrome extension. When you send an email, Mailcastr will automatically track it. The free version of the app tracks up to five emails a day or 150 emails per month.
If you want more than that, go for the paid version that costs $3 per month. It has unlimited email tracking, and it lets you create multiple signatures. Before every email, you can choose which signature to add. This is terrific if you run multiple businesses, or want different signatures for personal and professional messages while using the same email address.
Mailcastr also has an Android app that can add signatures and track read receipts. You'll need to send emails from that app though, you can't use Gmail or Outlook on Android.
Download: Mailcastr for Chrome | Android (Free)
Aim to Get a Reply to Emails
With one of these tools, you'll make a great email signature. But that is only one part of the puzzle when it comes to writing a professional email. If your goal is to get your email read and maybe seek further action, then you can't stop at the signature, you need to do more.
It matters how you write your email. It matters how you format it. It matters whether you are too long or too short. And for all of these tips and tricks to compose messages, there are apps to get a reply on your email.
https://www.phoenixonline.io/wp-content/uploads/best-email-signature-generators.jpg
675
1080
Valeri K
https://www.phoenixonline.io/wp-content/uploads/2018/05/phoenix-logo-landscape-300x138.png
Valeri K
2018-10-29 09:00:00
2018-10-29 10:36:20
The 5 Best Email Signature Generators to Make Your Mails Pop