Engaging Your Readers: Here Are The 8 Best Comment Plugins For WordPress
The comment section is an important part of any blog or website. We've collected 8 of the best plugins to create a better comments section at your WordPress site. Authored by Harsh Agrawal (shoutmeloud.com). ShoutMeLoud is an award winning blog that talks about living a boss free life with blogging. They cover about WordPress, SEO, Make money blogging, Affiliate marketing. Featured image courtesy of PureSolution via Bigstockphoto.
---
Creating an active comments section on your blog is difficult, but it is one aspect that you should work on as your blog grows.
Not only do blog comments help you engage with your readers, they can even help your site rank better on Google, at least according to my experience.
To help make it easier to create an engaging comments section on your blog, you can find lots of helpful WordPress plugins. They are, in fact, available in such huge numbers that you might feel overwhelmed trying to find the absolute best options.
To help, I've collected 8 of the best comment plugins for WordPress.
Some of these are standalone plugins that make huge changes to your comments section, while others have smaller features that you can combine with some of the other plugins on this list.
8 Top WordPress Comment Plugins For More Engagement
1. Thrive Comments
Thrive Comments is a relatively new plugin from the stable of Thrive Themes. It is actually the exact comments system that we use here at ShoutMeLoud – so if you want to see it in action, just scroll down.
Thrive Comments integrates with the native WordPress comments system to add a completely new interface: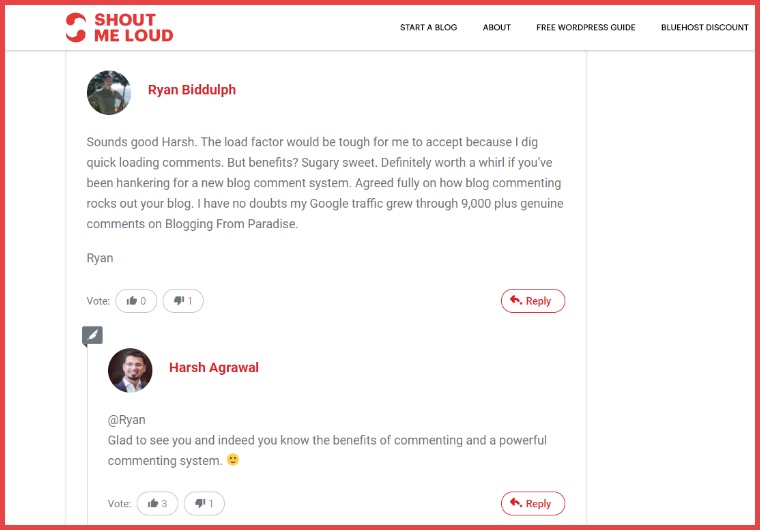 All your old comments will continue to work in the new interface. And if you ever deactivate the plugin, your comments will go back to the normal version displayed by your theme.
In addition to the new design, Thrive Comments adds helpful engagement-boosting features like:
Upvotes and downvotes on comments like Reddit (you can also just use upvotes if you don't like the negative aspect of downvotes)
Social login for comments
Custom gamification badges for things like numbers of comments or upvotes
There are also a couple of other neat features like:
The option to display a custom message or offer after a user leaves a comment. Great for boosting social shares, promoting offers, or building your email list.
A custom moderation panel that makes it easy to control your comments
Analytics for your comments section
2. No Self Pings
No Self Pings is a simple plugin that helps keep your comments section free of clutter.
By default, every time that you link to an internal post on your WordPress site, your site will leave a pingback on the post that you linked to.
If you're following good SEO principles and including lots of internal links, this can quickly start cluttering up your comments section with lots of pingbacks.
When you install and activate this plugin, you'll get a new box when you go to Settings → Discussion that lets you enter domains to exclude from pings. By default, the plugin already includes your own domain name, but you can also add additional domain names if you want to exclude external websites: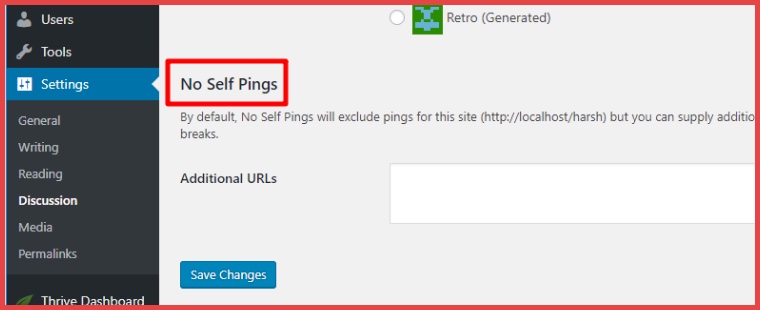 Jetpack Comments is a module in the all-purpose Jetpack plugin that replaces your blog's comment form with a new form that lets visitors use social login to comment on your site.
It doesn't affect how your theme displays comments – it just affects the form that your readers use to actually leave comments.
Visitors can still use the default "Email, Name, Website" method, but they also gain social login buttons for:
Facebook
Twitter
Google+
WordPress.com
Another benefit that Jetpack Comments comes with is the ease of use to enable in comparison to other social login plugins. Most plugins make you create a Facebook App before you start accepting social login, but with Jetpack you just need to click a single button: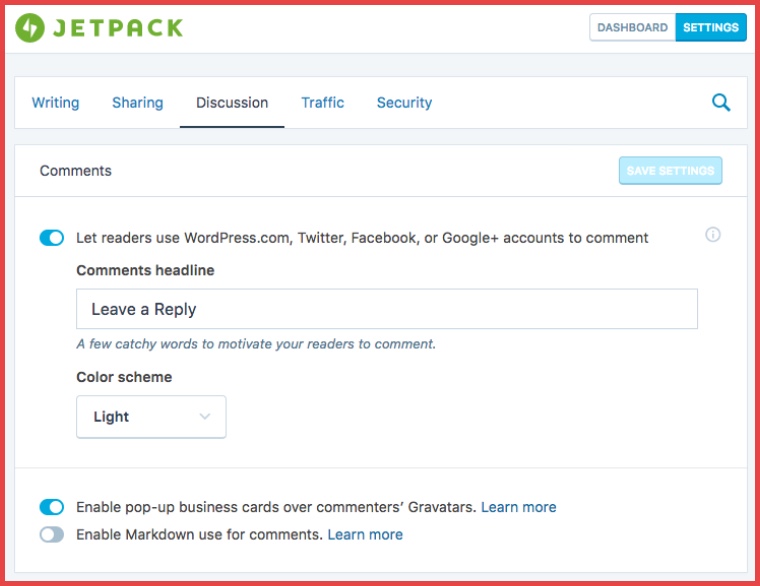 In addition to the new design, here are some other features that wpDiscuz adds to your comments section:
Comments voting (just like Reddit and Thrive Comments)
Comments sorting for visitors can find new, old, or most-voted comments
Multi-level nested comments so that visitors can more easily follow specific comment threads
AJAX "Load More Comments" button so that visitors can load more comments without needing to reload the page
Anonymous users can edit comments (but only for a timeframe that you set)
Social share buttons for users to share comments
Option for commenters to subscribe to your email list
There are also a lot of smaller features in wpDiscuz. If you're interested, I encourage you to check out the demo.
5. Thank Me Later
Thank Me Later lets you connect with your commenters via email after they leave a comment on your site.
The plugin lets you automatically send an email to your commenters at a specific time after they leave a comment. You can specify the timeframe – so this could be 5 minutes or 5 days after they leave a comment.
You can use this email to:
Simply thank your readers for the comment
Promote something (like your social media profiles or a special offer)
What's cool is that you can also use shortcodes in your emails to automatically insert the commenter's name, which gives your thank you email a more personalized touch: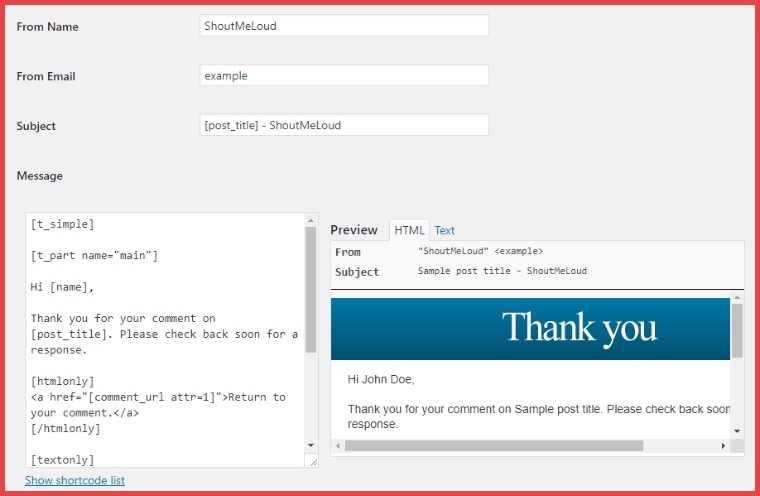 If desired, you can also create different thank you emails for different categories on your site.
6. WP First Letter Avatar
By default, WordPress displays a grey "Mystery Person" avatar whenever a user doesn't have a Gravatar image associated with their email.
WP First Letter Avatar helps you avoid a bunch of anonymous grey "Mystery Person" boxes by adding an avatar with the first letter of the commenter's name when WordPress can't find a Gravatar image: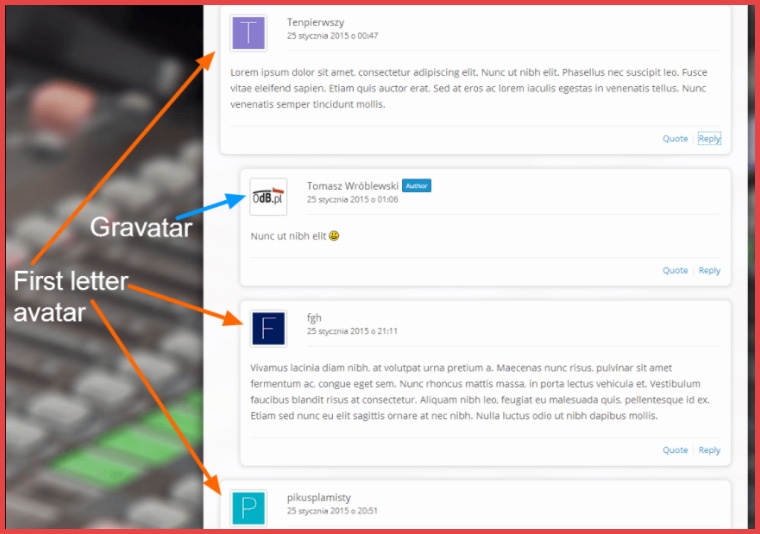 While the plugin comes with its own set of letters, you can also upload your own images to use for each letter if you really want to personalize things.
7. Yoast Comment Hacks
Yoast Comment Hacks is a plugin from the Yoast SEO team that makes a few minor tweaks to how your comments section functions.
One of the neatest features is a new button in your interface that lets you email all commenters on a specific post. The admin users also get new links in the comment section to email individual commenters directly.
Another helpful feature lets you redirect first-time commenters to a special thank you page. Like Thank Me Later, you can use this to connect with your commenters and thank them or promote something. Only, with this feature, you connect on your own site rather than using the email.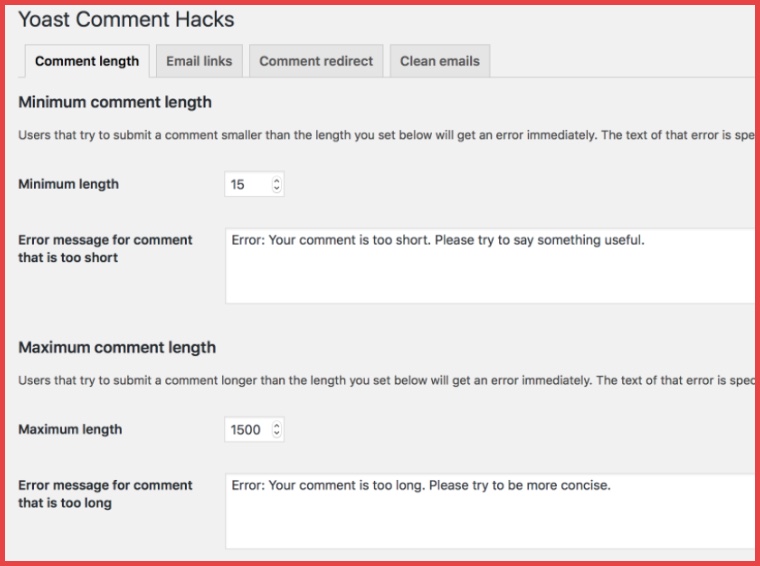 Other helpful features include:
Better comment notification emails
Option to disallow comments that are too short or too long
Some other basic maintenance options
8. Simple Comment Editing
How many times have you left a comment on a blog only to realize that you made a mistake right after hitting the submit button?
Simple Comment Editing helps your visitors avoid that feeling by giving even anonymouscommenters the option to edit comments after they click submit.
Don't worry. They can't edit comments forever (that would cause all kinds of problems).
Instead, they only have 5 minutes to edit their comment. This ensures that they have enough time to fix mistakes, but not so much time that they can change a comment's meaning after other people have interacted.
To use this plugin, you simply install/activate it and it starts working right away – no configuration needed: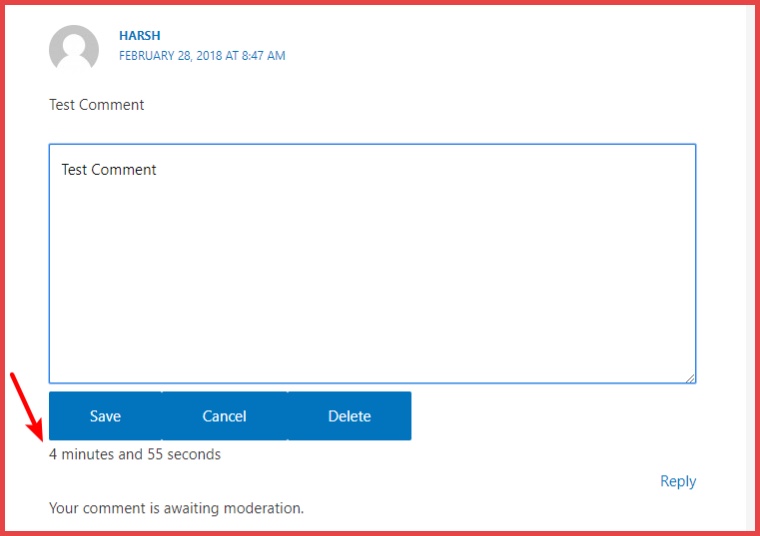 Note: If you decide to use wpDiscuz, you don't need this plugin because wpDiscuz already includes comment editing for anonymous users.
Use These WordPress Comment Plugins To Help Visitors Engage Better On Your Blog
As you can probably guess, I like Thrive Comments the best (otherwise I wouldn't be using it on this site).
wpDiscuz is also another good option to add a lot of functionality to your comments section using one plugin.
And if you want some smaller enhancements, all of the other plugins add valuable features – they just don't completely replace your comments section like Thrive Comments or wpDiscuz.
https://www.phoenixonline.io/wp-content/uploads/best-comment-plugins-wordpress.jpg
675
1080
Valeri K
https://www.phoenixonline.io/wp-content/uploads/2018/05/phoenix-logo-landscape-300x138.png
Valeri K
2018-10-31 20:53:54
2018-11-03 08:02:09
Engaging Your Readers: Here Are The 8 Best Comment Plugins For WordPress